Yorscaff required a brochure website to be able to showcase the services that they provide. Therefore, we ensured that we included a number of pictures of Yorscaff's recent work. This allows the users to be able to see the great work that Yorscaff had completely previously. Displaying examples of a company's previous work is essential when designing a brochure website. The main purpose of a brochure website is to show off the company's work and services. Therefore, this should be the main focus when you are designing a brochure website. We feel that this website is a perfect example of a brochure website. It is easy to navigate around and the previous work of Yorscaff is clearly displayed.
To make a website work, you need each page to feel like they are all linked in some way. We achieved this by using the same colour scheme throughout the whole website. We feel that by doing this, the customer instantly associates this colour with Yorscaff. It also provides continuity throughout the whole website.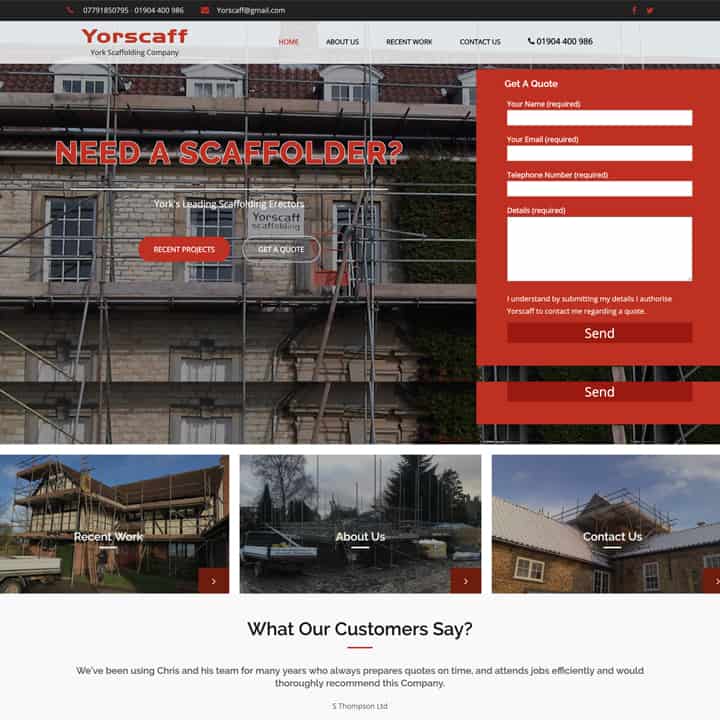 About Yorscaff
Yorscaff was founded in 2009 by Chris Smith, after 9 years in the industry. Yorscaff is an Advanced Level Construction Industry Scaffolders Record Scheme, (CISRS) qualified scaffolder. Their aim is to do things differently. They have a small fleet of vehicles. Yorscaff also has enough fitting scaffolding and tube to carry out large and varied workloads. They always put their customers first and ensure all of their projects are finished to a high standard.
Working With Yorscaff
Yorscaff chose to work with JPS Media because we have been working in website design for over 10 years. We have built up enough knowledge over the years to ensure that the websites we build are successful online. We know how to tailor the design of the website to the needs of our clients. JPS Media always work closely with our clients. This is so we know that during every step of the way, the client will be happy with our work.
We built Yorscaff a new generation brochure website. This means that the website was designed in order to showcase the services of Yorscaff. We feel that the website not only sells the services provided by Yorscaff perfectly but is also beautifully designed. The website is easy to navigate around and use. This means that the user will be able to decide whether to use Yorscaff as their scaffolder. We feel very proud of the website we built for Yorscaff.
Call Us Today On: 03333 444 923​