Online Land Rover Supplies In York
PA Blanchard already had a physical building where they could sell their Land Rover supplies from, however, in order to reach more customers, they required an online presence. This is why they contacted JPS Media. We discussed with them exactly what they required from their website and the main thing they required was an easy way for customers to view their supplies. They also needed their potential customers to be have an easy way to buy the Land Rover parts. JPS Media, therefore, decided to build an eCommerce site. An eCommerce website is a safe and easy way to sell products online. 
In order to ensure that the website we built for PA Blanchard worked for them, we also built a bespoke back end system that would make processing orders easy. This is because PA Blanchard required a low maintenance website that would make their work easier. We feel that we built them a website that does this perfectly. The eCommerce side makes it easier for the customer and our back end system makes it easier for PA Blanchard to process the orders placed by the customers.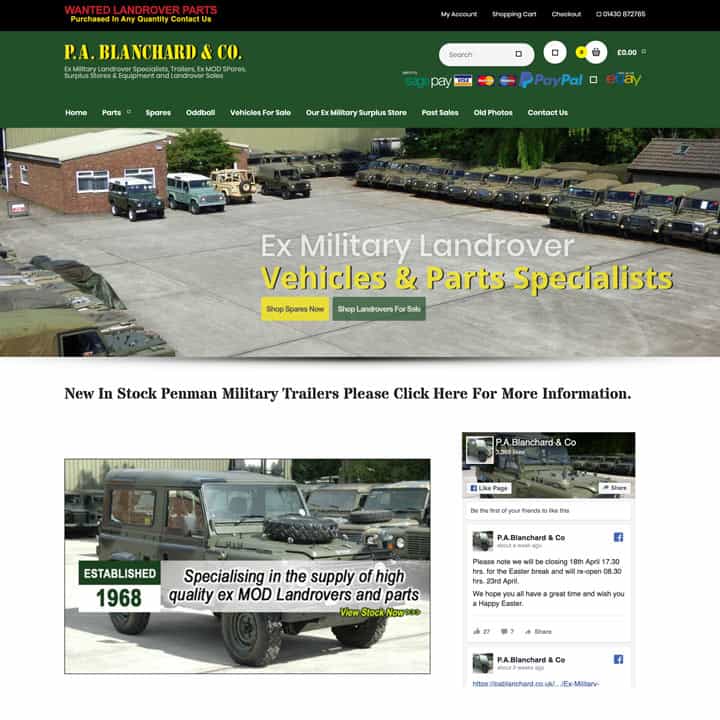 About PA Blanchard
PA Blanchard is a family run business that was founded in the late sixties. They are one of the few companies based in the UK that specialise in ex-Ministry of Defence Land Rovers. PA Blanchard has evolved into a leading company that has become a single source of Land Rover Supplies. There is a dedicated and fully trained workforce at PA Blanchard that are always willing to help. Their key objective is to offer a range of high quality, competitively priced parts. This objective was coupled with their fast and reliable service. Making PA Blanchard a highly sort after company.
Working With PA Blanchard
PA Blanchard has an excellent reputation for specialising in Land Rovers. They are helpful and friendly to their customers. Meaning that they always deliver an amazing service. Therefore, we were extremely happy when they contacted us for an eCommerce website. We wanted to work with a company that has a good reputation and our aim was to help that reputation expand online.
The purpose of the website was to showcase the products that PA Blanchard sell to their customers. Therefore, we needed to design a website that was easier to navigate around. JPS Media feel that we were successful in building a website that the user can navigate around and find exactly what they want. If the website was difficult to navigate around, the user would be more than likely to click off the website. This could mean that they would purchase from a competitor than PA Blanchard.
To be able to ensure that the website we designed worked correctly for PA Blanchard, we designed a back end system that would make processing orders easy. We needed to build the company a website that takes the stress out of running a business. Therefore, we built them a stock management system. This helped PA Blanchard to be able to monitor the stock that they have. It also meant that they could see what products were being bought the most by their customers. JPS Media also built in a customer relations management system. This allowed them to be able to manage their orders in a convenient way. It allows them to run their business more effectively.
JPS Media always want to make our client's life as simple as possible, whilst also building them a beautiful, bespoke website. The website we built for PA Blanchard helped make their life easier.
We truly enjoyed building this website and working alongside PA Blanchard. The website we built for PA Blanchard was a bespoke, beautiful website. A website that works for their business. The website is something that we proud to be out our name on.
Call Us Today On: 03333 444 923​